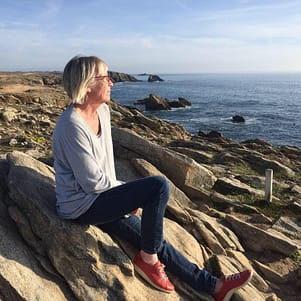 For me painting is a way of escaping the normal everyday life into a world of dreams, memories, waves of emotion, and imagination, like writing a diary with colour. Every painting has its own unique story, a moment in time – falling in love, feeling down, disappointment, a chance encounter or a moment of pure, unadulterated happiness.
When presented with a fresh, white canvas, I might initially sketch a deeply personal emotion, and gradually and at least partially conceal it with colour and shapes. This way, only I know what is actually in my "diary", and the viewer has the opportunity to decide what they feel lies within. For me it's more important to match the emotion with colour than the actual shapes themselves.
I paint mainly with oil on linen canvas. I don't mix the colours on the palette. Instead I create subtly different shades by applying several thin layers. I like when one is able to see the exquisitely delicate weave in the linen canvas beneath.
_
Minulle maalaaminen on tila "kahden vaiheilla", askel arkipäivästä unelmien, muistojen, kuohunnan ja mielikuvien maailmaan, päiväkirjan kirjoittamista väreillä. Jokaisella maalauksellani on takanaan tarina, hetki elämästäni – rakastuminen, mielipaha, pettymys, kohtaaminen tai jostain kokemastani hetkestä syntynyt onnellisuus.
Ryhtyessäni maalaamaan saatan piirtää valkoiselle kankaalle hyvin intiiminkin hetken elämästäni, jonka vähitellen peitän ainakin osittain värein ja yksinkertaisin muodoin. Siten vain minä itse tiedän mitä "päiväkirjassani" lukee ja taulun katselijalle jää mahdollisuus omaan tunnelmointiinsa ja tulkintaansa. Maalauksissani tunteisiini sopivan värin löytyminen ja onnistuminen on minulle ehdottomasti tärkeämpi kuin muoto.
Maalaan öljyväreillä pääasiassa mahdollisimman rouhealle pellavakankaalle. En sekoita värejä paletilla vaan eri sävyt syntyvät maalaamalla useampi ohut kerros, jolloin pellavakankaan kaunis, epätasainen rakenne näkyy maalin alta.